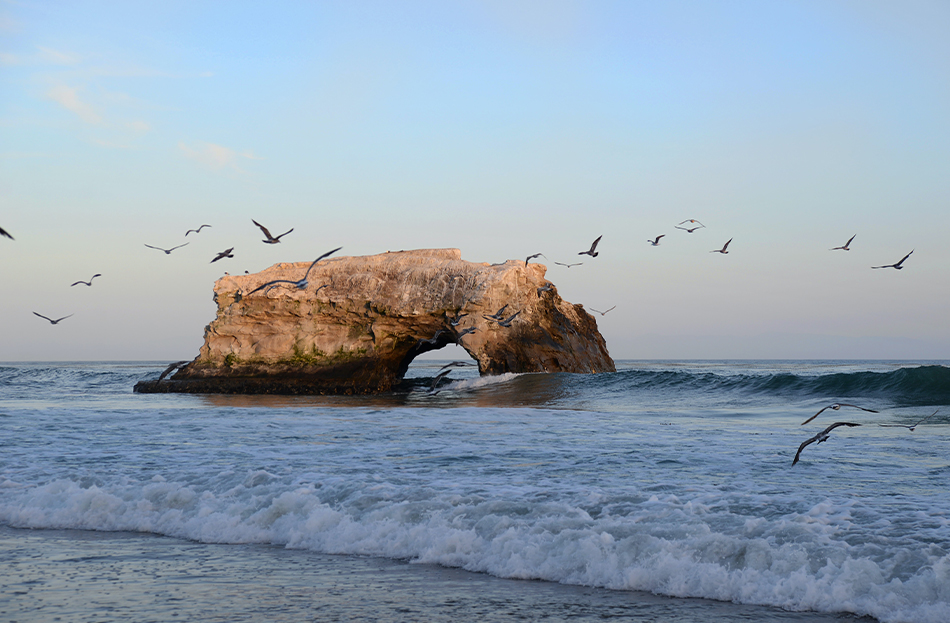 10 Most Incredible Beaches in California
California, or the Golden State, is endowed with an outstanding coastline home to a slew of stunning beaches that rank among the best in the country.
California's beaches are beautiful areas to enjoy nature and outdoor activities, with spectacular scenery along the rocky Pacific coast. Water sports include sea kayaking, scuba diving, snorkeling, wakeboarding, surfing, and bodyboarding, while beach activities include volleyball, basketball, running, hiking, and, of course, sunbathing.
Along the Golden State's sandy shores, there are many activities to do and beautiful places to visit. Our list of the most incredible beaches in California will help you plan your beach vacation.
1. Santa Monica State Beach, Santa Monica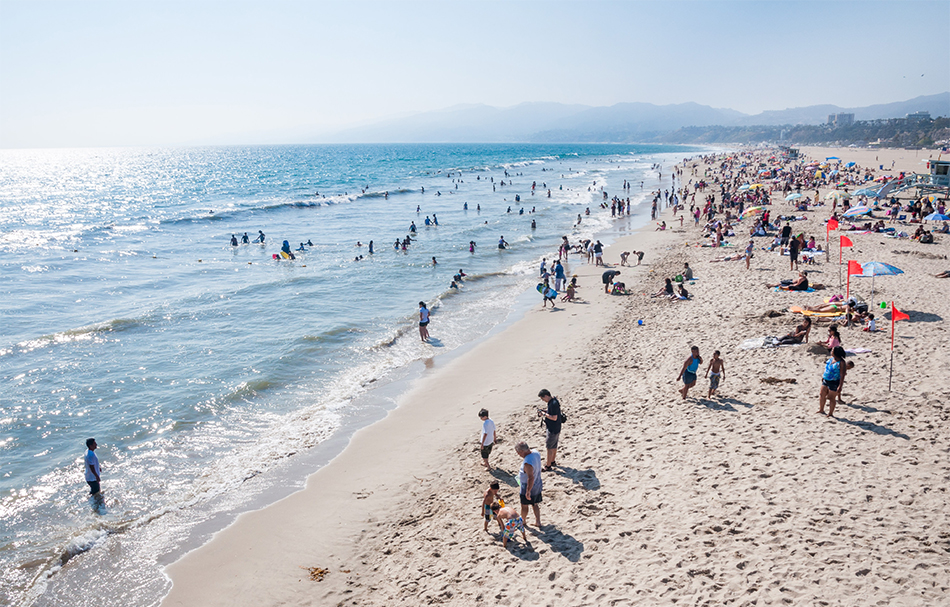 Santa Monica is the quintessential Southern California beach town, complete with a pier, boardwalks, and trendy restaurants and shops steps from the beach.
Santa Monica has 3.5 miles of beautiful sandy beach fronted by a bike path. There's a historic wooden pier topped with an amusement park with an aquarium, an antique carousel, and roller-coaster rides. The adjacent paved boardwalk and bike path connects San Monica and Venice Beach. Although the water is cold, the waves are usually calm.
2. Huntington City Beach, Huntington Beach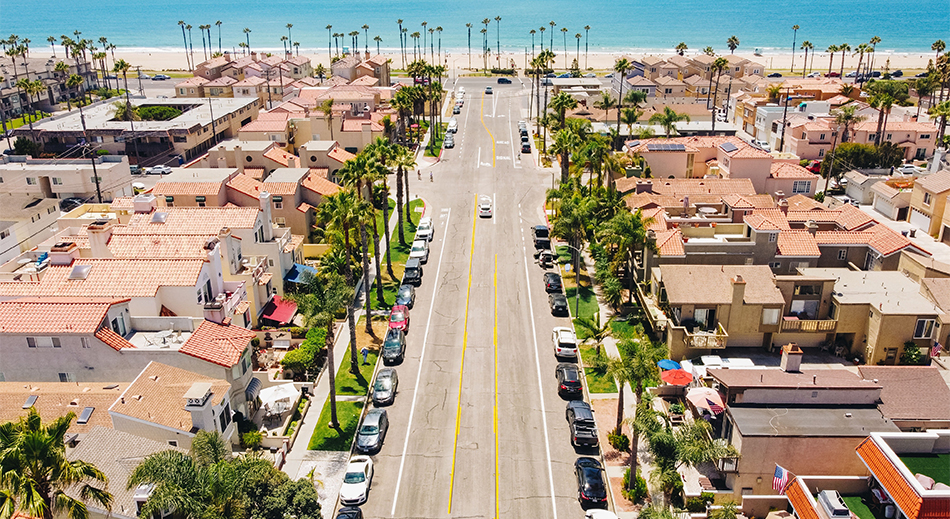 Huntington Beach, one of Southern California's first beach resorts, is now an internationally renowned destination focusing on surfing and beach life. It has two miles of wide, well-maintained sandy beaches just over the border from LA County in Orange County.
There's a pier for walking, fishing, and sightseeing, as well as a thriving restaurant scene near the beach that offers a nice variety of dining options.
3. Carmel Beach, Carmel by-the-Sea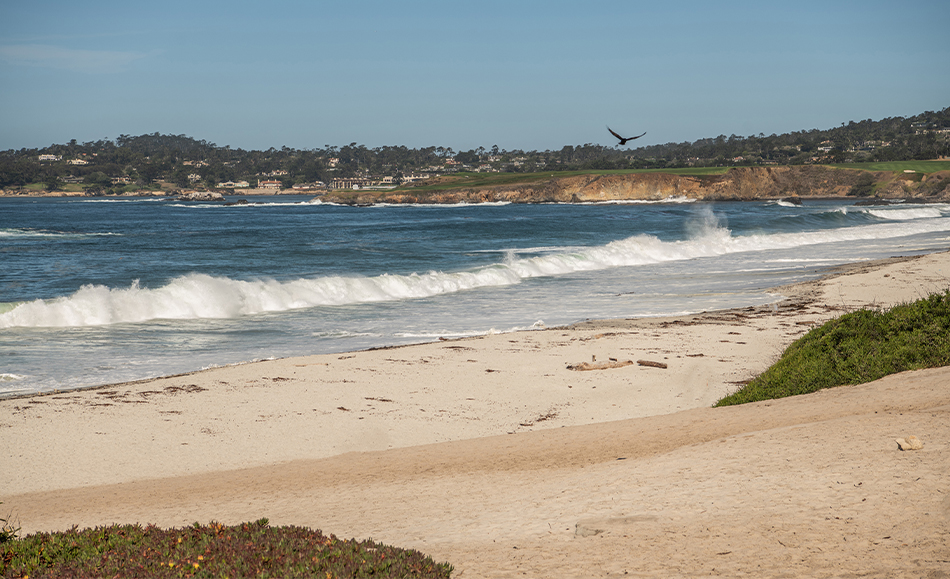 Carmel, a lovely beach hamlet, enchants visitors with its fairy-tale atmosphere.
The highlight of Carmel by-the-Sea and the raison d'être for this upmarket tourist area is a magnificent sandy beach. The vast stretches of brilliant white sand, the deep blue water, and the windblown Monterey cypress trees give this beach a unique look to the Northern California coastline.
Carmel Beach, located in a secluded cove, is one of the most excellent spots to visit California for a romantic stroll. Above the beach, a lovely trail winds along the ocean bluff. It's also enjoyable to take a walk along the coast.
It is important to note that swimming is not permitted in Carmel Beach. The ocean conditions can be dangerous due to rogue waves and rip currents, in addition to the chilly water (about 50 degrees). Lifeguards do not patrol this beach.
4. La Jolla Shores Beach, La Jolla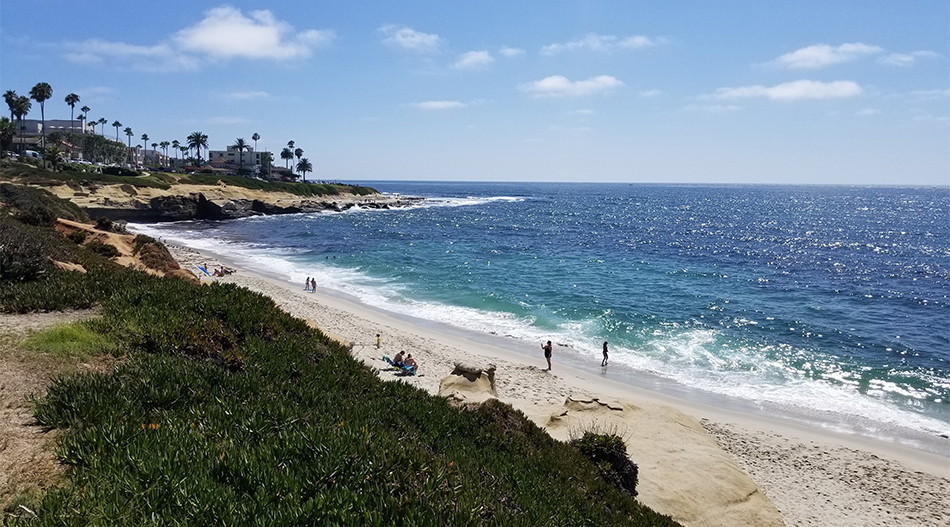 La Jolla Shores, a dreamy Southern California beach destination, is a well-protected mile-long beach with gentle waves, making it ideal for kids and families. The Children's Pool, a naturally shallow, separated area fronted by an old seawall, is used as a kiddie play area.
La Jolla, a picture-perfect seaside town, is ideal for romantic getaways. There are also numerous lifeguard stands and plenty of restrooms and outdoor showers. The beach is next to the San Diego La Jolla Underwater Park Ecological Reserve, a popular diving and snorkeling destination. It also has exceptionally gentle waves.
5. Natural Bridges State Beach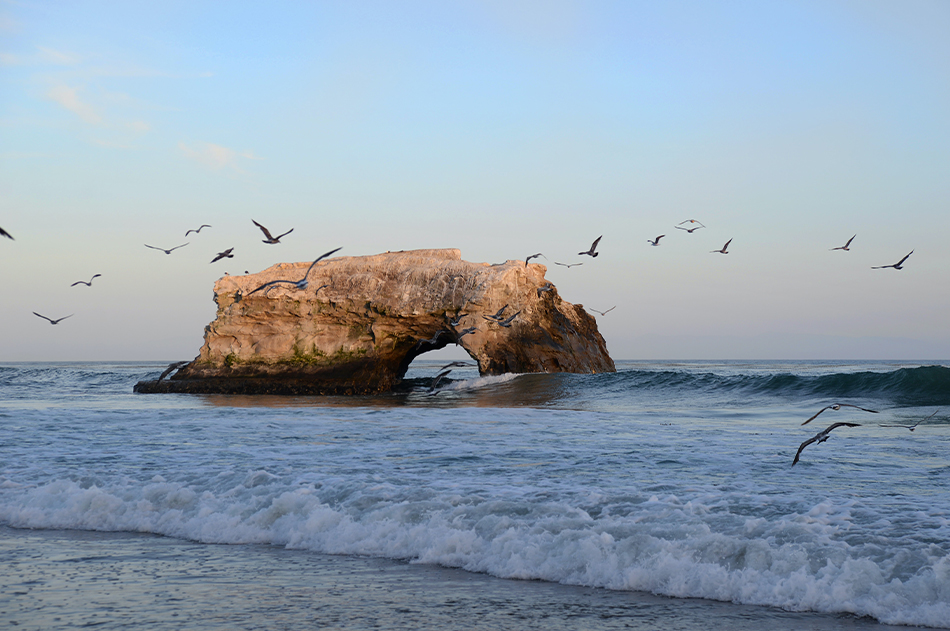 Natural Bridges State Beach is one of the most excellent beaches in the Golden State, called after the stunning rock arch seen from miles away. The area has an undeveloped and untamed feel to it.
The beach, located in a magnificent state park just outside of Santa Cruz, is home to a diverse range of species. Many visitors come to see the stunning monarch butterfly migration every year when tens of thousands of butterflies float across the park.
6. Zuma Beach, Malibu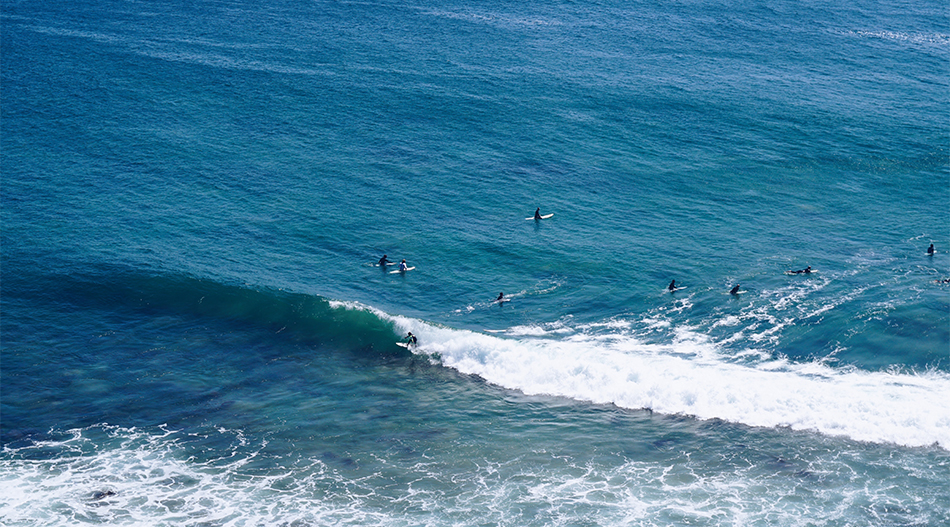 The city of Malibu in Southern California has some of the most beautiful beaches in the state. It's about 10 miles north of Santa Monica and has a variety of beach settings.
Zuma Beach has a long, vast shoreline that stretches for nearly two miles and covers more than 100 acres. This famous beach has lifeguard stands every few hundred yards and various facilities and snack stands. Beach volleyball nets, public restrooms, and showers are also available.
Paradise Cove is another popular Malibu destination, a beautiful sheltered beach that has served as a film set for many Hollywood films. This small sandy beach lies in a cove, so the waves are calm, making it ideal for families and children. The beach is known for its lively social scene, but the high day-use parking fees keep the crowds at bay.
7. Coronado Central Beach, San Diego
Coronado Central Beach is located on San Diego Bay and is a lovely beach. The fine white sand contains a high concentration of mica, making it more reflective than sand from other beaches. This effect enhances the brightness of the soft sand, making it ideal for selfies. The effect was one reason the beach serves as the setting and for some of the Marilyn Monroe films Some Like It Hot.
Like most Southern California beaches, this long stretch of sandy shoreline features gentle waves that are ideal for swimming, boogie boarding, and surfing. There are public facilities and showers on the beach. Lifeguards are on duty throughout the peak season.
The historic Hotel del Coronado, also featured in the film, is the most excellent spot to stay in Coronado. This iconic resort has been an exclusive beach destination for more than 100 years, occupying a Victorian-era landmark directly on the beach.
8. Capitola Beach, Capitola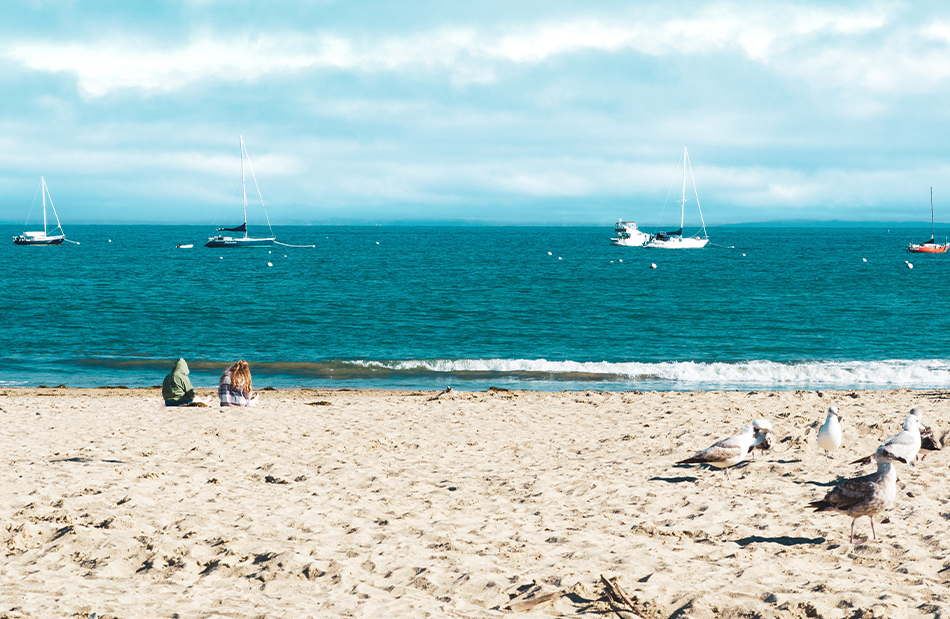 Capitola Beach is known for its lovely beachfront hamlet. Colorful buildings and a verdant Mediterranean setting characterize this charming Northern California hamlet, evocative fishing towns along the Italian or French Riviera. The beach is only a few feet away from the downtown area. Cafés, restaurants, and shops are all within walking distance for visitors.
Capitola Beach is one of the smaller beaches on this list, but the relaxing atmosphere more than makes up for it. Esplanade Park provides seating for tourists to observe the bright seaside panorama as it frames the beach.
The sandy beach is suitable for sunbathing, beach volleyball, and sandcastle building, while the sheltered waves are ideal for first-time surfers.
9. East Beach, Santa Barbara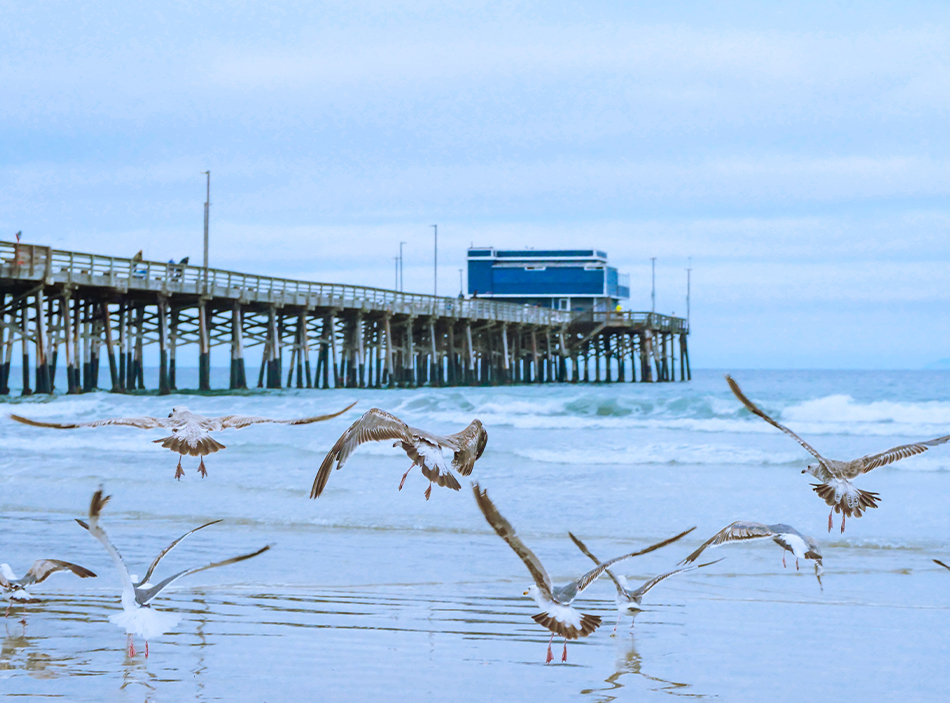 Santa Barbara is the archetypal Southern California beach town, with warm weather, waving palm trees, long expanses of sandy coastline, and traditional Spanish Colonial-style buildings. Because of its beauty and glitz, the coastline is dubbed "The American Riviera."
East Beach, one of Santa Barbara's loveliest beaches, flows gently along the Pacific coast in a picture-perfect location, concealed behind the Santa Ynez Mountains and bordered by large palm palms. Visitors can enjoy the beauty and cool seaside breezes by taking leisurely walks.
10. Pacific Beach, San Diego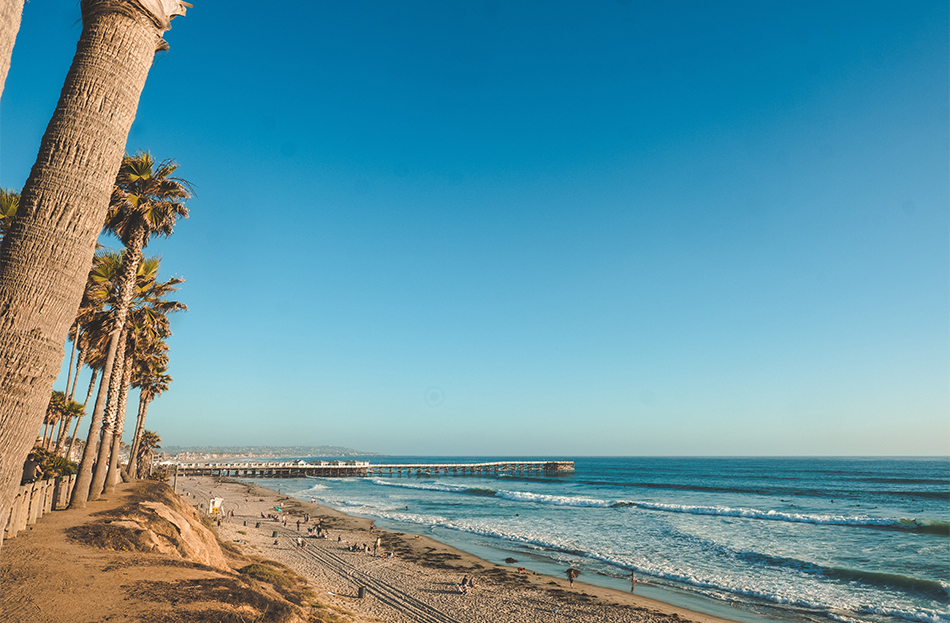 Pacific Beach is located just north of downtown San Diego, just after Mission Beach, and is known for its long and wide sandy beach.
The weather is pleasant, and the water is warm enough for swimming, typical of Southern California beaches. Surfing, kiteboarding, and windsurfing are also possible due to the favorable ocean conditions. The beach and the Ocean Front Walk, a coastal walkway, are used for various sports and outdoor activities.