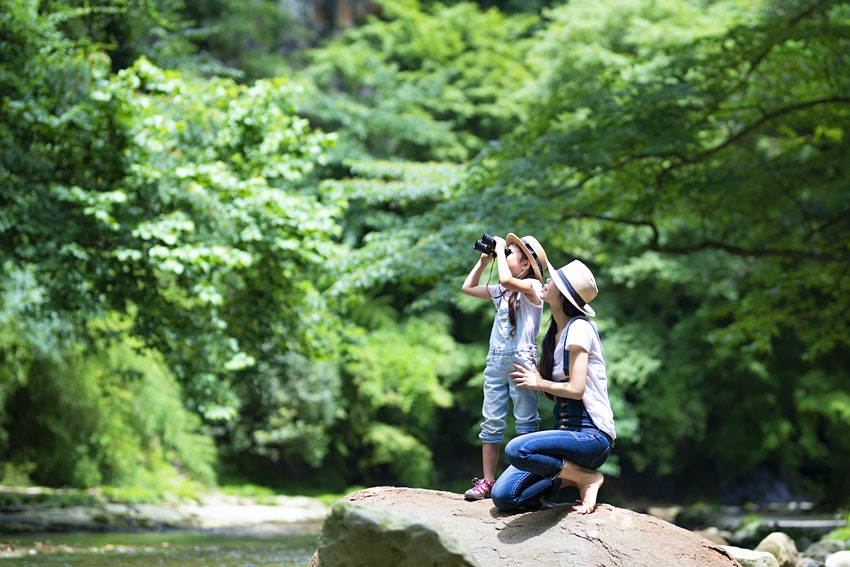 How to get your kids to love the outdoors
There's something exciting to do outdoors at every age © Hakase_ / Getty Images
Baby's first smile, roll, words, and steps are milestones of child development. It's easy for parents to find expert advice on the best time for swim lessons, to pedal a trike, and ride a bike. But when should you bring your children on outdoor adventures?
Erin Kirkland, journalist and founder of the Alaska family travel site AKontheGO, suggests starting where you are, literally and figuratively: "The goal is success for the entire family," she says "and to get there, you'll need to begin at the beginning, with your youngest and/or most inexperienced family member."
While each child develops differently, we've come up with suggestions for the right age to take kids on various outdoor adventures.
Editor's note: during COVID-19, be sure to check local travel restrictions before booking a trip and always follow government health advice.
Provided you have the right clothes, there's no reason even very young babies can't enjoy the outdoors © maroznc / Getty Images
Newborns
If you're a parent who has enjoyed outdoor adventures before kids, there's no reason not to take your child along and introduce them to the outdoors right away. Remember, a newborn is still developing their immune system for the first few months, so parents should be careful in exposing babies to crowded public spaces, but that doesn't mean your child cannot go outside.
Ensure the baby is dressed appropriately for the weather (think Goldilocks – not too hot and not too cold), limit exposure to the sun, and use sunscreen once the baby is older than 6 months (younger than that use hats, clothing, and shade to block the sun.
It's also easier than you may think to go camping with infants. Before they start crawling, parents don't have to worry about babies getting into dangerous areas around the campsite (i.e. a fire). This is a great time to try some low-key overnight camping at a state park close to home in case you need to run back to the house for emergencies. But it's probably not the best idea to camp out in the dead of winter or heat of the summer.
Between 6 and 12 months, children get much more mobile © Nadezhda1906 / Getty Images
Infants (6–12 months)
Outdoor activities for infants include hiking, camping, and swim lessons. Of course, a 6-month-old isn't going to ramble down the trail, but "hikes" with a stroller (regular or jogger) can be great exercise and self-care for moms and dads.
Between 6–12 months it gets more challenging to camp with a growing baby – they need to crawl around and move, and anything they pick up (sticks, mud, bugs) goes straight into their mouths. Parents need vigilance to ensure their child's safety. If you want to continue the camping experience at this age, perhaps stick to a tent in the basement or backyard.
Also, around 6 months of age is a great time to start introducing your little one to the water during swim lessons. Fear and separation anxiety start to develop around 8–9 months, so introducing the child to the water beforehand will make it easier to continue those lessons through this period.
Maggie and Evie Parfitt (L–R) set up camp in the living room – and enjoy the static in their hair © Dave Parfitt / Lonely Planet
Toddlers (2–3 years old)
At 2–3 years old, toddlers do not have the strength or patience to complete a 3-mile hike, but they always enjoy spending time with their family outdoors. Plus, getting the chance to study insects, flowers, or a stream for minutes at a time is a sure winner. Toddlers love to be outdoors, and most will be thrilled to sleep under the stars.
For a toddler's first camping experience start with a simple overnight close to home. Get a good tent to protect everyone from wind, rain, and cold, and be sure to stick to your toddler's schedule. The first campout is probably not the time to keep the kid active all day without a nap, and your campsite neighbors will also appreciate not hearing junior's meltdown.
For watersports, this is a great time for short canoe or kayak rides with your toddler in the center compartment of the boat. Don't stay too long on the water (20–30 minutes will suffice), and always have young children wear a properly fitted life jacket. At this age, remember, it's not the destination that matters, it's building a comfort level with the outdoors and an expectation for going on these adventures.
Even preschoolers will probably have the skills they need for some light bouldering at a climbing gym © Sinenkiy / Getty Images
Preschoolers (3–5 years old)
After unrolling sleeping bags in the living room, setting up a tent in the backyard, and perhaps an overnight at a park close to home, your preschooler is now ready for a longer camping trip. If your child has some experience, head to a state park for a long weekend. Intentionally choose a destination with features of interest to children, perhaps a lakefront beach, waterfall, or gorge to explore.
Speaking of scrambling up gorges and rocks, 4–5 years old is a great age to start rock climbing. Preschoolers are usually old enough to use problem solving skills to get through a bouldering route, and most climbing gyms have a minimum age of 5 for children to start climbing walls.
On the water, a preschooler can move from the center of a canoe to sitting in the bow (a canoe offers more stability than a kayak for young children who can't sit still). Offer them a paddle, teach a basic forward canoe stroke, and get them involved. They may not last long or provide much propulsion, but your child will grow confidence in assisting with the adventure.
When planning outdoor adventures with children, Erin Kirkland reminds parents to ditch the agenda. "I find in my family-based classes and events that kids crave unscheduled, unscripted time in the outdoors," she says. "Find a location, create a base camp, and encourage free play. It might take kids a bit of time to figure out what that means, but once they start digging in the dirt, climbing trees, or wading in a pond, you'll be amazed."
Once they reach school age, you've established a foundation and it's time to listen to what your kids want to do © Hero Images / Getty Images
School-age (6–12 years old)
School-age children are developing and expressing their own interests. During their first five years, you've introduced them to different outdoor adventures and built a strong foundation. Now it's time to listen to your children's interests.
Think intentionally about what appeals to your child: if your child has demonstrated a keen interest in hiking and camping, perhaps it's time for a backpacking trip. Children who love their time in the water are certainly ready to paddle along with you in the bow of a kayak or canoe. Perhaps a canoe camping trip would be more their speed.
If they've enjoyed climbing activities like bouldering in a climbing gym, get that kid in a harness and up on a real rock or on a rope-based obstacle course. For your young explorer, guided cave tours are an absolute blast – just be on the lookout for signs of claustrophobia.
Or perhaps your child would prefer something more introspective. Going to interpretive hiking trails with stations and activities, or stopping to pick wild raspberries or search for crayfish are perfect outdoor adventures for some kids.
It's important to involve your children in the planning process to find an outdoor adventure where they are truly invested. Listen to your kids, give them choice and control over their activities, and you've done all you can do to set them up.
Geocaching is the perfect activity to keep older kids interested in exploring the outdoors © pixiecloud / Getty Images
Teenagers (13–18 years old)
The teenage years might be known for attitude, eye rolls, and mood swings, but that doesn't mean outdoor adventures have to end.
Geocaching can pique this age group's enthusiasm for hiking. Erin Gifford, family travel writer and founder of Kidventurous, discovered geocaching during a family trip to Michigan. "We spotted a family that was clearly hunting around for something," she said. "Looking under rocks, in trees, around park signs, all while staring into a phone, looking for answers. They let us know they were geocaching and that their boys loved it, that it got them interested in hiking. We downloaded the geocaching app on the spot and my kids were hooked, especially my 10- and 14-year-olds."
On camping trips, give teens their own tent so they have the privacy they need, and with body image concerns top-of-mind, go easy on them when they want to bring extra hair care products, acne scrub, and/or face wash. Similar to the school age years, after a foundation of outdoor adventures, parents should have a good sense of what appeals most to their child. Get teens involved in the planning process. Try for unique destinations such as camping in a covered wagon, a yurt, or glamping.
Dave and Maggie Parfitt hike to a viewpoint on Snake Mountain overlooking the Champlain Valley of Vermont © Dave Parfitt / Lonely Planet
Outdoor adventures at any age
Preparing kids for a lifetime of outdoor adventures is not so different than preparing kids for an independent life. As a parent, keep your expectations realistic and be flexible – outdoor adventures with kids are certainly different than when you hiked and camped solo.
"Just go," says travel writer and outdoor trade consultant Chez Chesak. "Don't overthink it. Don't worry if your child is the 'right age' or not because any age is the right age. Granted, you have to take more into consideration when taking a toddler out camping or on a hike versus a teen. But the key, really, is to just get them out there, into the wilderness.
"Allow them (and you as a parent) to make mistakes, sometimes stumble, figure things out, and get back up again. That is how they will learn to be comfortable in the outdoors and ultimately fall in love with being outside."