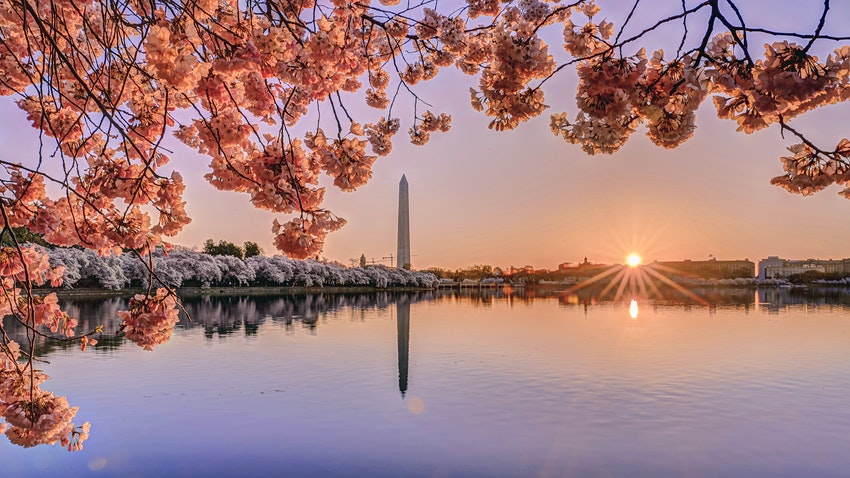 The 14 best day trips in the US Northeast
The US capital offers some great escapes from the big city noise ©Lingxiao Xie/500px
The Northeast is a haven for day-trippers. New York City is the gateway to a constellation of escapes to beaches, mountains, historic sites, pretty villages and more. Almost half of New England is within easy distance of Boston, from the cow-dotted hills to the tumbling gray seas of Maine. From Washington, DC, head south to Virginia for syrupy-paced country life, west to the Appalachian mountains, north to bustling Philadelphia, or east to the Maryland shore for seaside escapes.
Editor's note: Please check the latest travel restrictions before planning any trip and always follow government advice.
Best day trips from New York City
Thomas Edison National Historical Park, West Orange, New Jersey
You can still sense Thomas Edison's brilliance and tireless pursuit of knowledge at his sprawling workshops in West Orange, New Jersey. At the Thomas Edison National Historical Park, visit the actual labs where he and his researchers perfected the light bulb by methodically testing 6000 substances and 3000 designs, beginning in the 1870s. 1hr by train & bus from Penn Station.
The NYC skyline looms large beyond Rockaway Beach ©Vicki Jauron, Babylon and Beyond Photography/Getty Images
Rockaway Beach, New York
Surfboards on the subway? A surprising sight, no doubt, but it's a quick subway (or scenic ferry ride) from Manhattan to the break at the white-sand beach off 90th St in the Rockaways. A tight-knit group of Atlantic wave worshippers have revitalized this section of the beachfront. If you've forgotten your board, watch the action from a beachside cafe. 1hr by ferry or 1hr 20min by subway.
The boardwalk at the beach at Asbury Park is popular among cyclists ©Image Source/Getty Images
Asbury Park, New Jersey
Hard by the Atlantic Ocean, Asbury Park is where New Jersey's troubadour, Bruce Springsteen, got his start in the mid-1970s. The first stop for everyone is the Stone Pony, the bar where he launched his career. Another 40 bars, many with live music, lure trains full of young NY-based revellers. Blocks of restored Victorian homes and newer units are also attracting New Yorkers' attention. 2hr by train from Penn Station.
Woodstock, New York
A minor detail: the 1969 music festival was actually held in Bethel, an hour's drive west. Nonetheless, the perfectly quaint town of Woodstock still attracts an arty, music-loving crowd and cultivates the free spirit of that era, with rainbow tie-dye style and local grassroots everything, from radio to a respected indie film festival and a farmers market (fittingly billed as a farm festival). 2hr 30min by car.
See more day trips from New York City.
Best day trips from Boston
Providence cityscape at Waterplace Park ©ESB Professional/Shutterstock
Providence, Rhode Island
The capital of America's smallest state offers a quirky good time. Brown University and the Rhode Island School of Design (RISD) give the city an arty, youthful vibe, with excellent coffee shops, dive bars, used bookstores and indie theatres. Hit Waterplace Park for art installations and summer concerts. 1hr by car or 30min by train from South Station.
Western Massachusetts
It wouldn't be fall in New England without hot apple cider and cinnamon-spiked cider donuts, both harvest traditions in the apple orchards of western Mass. You can create a whole day of autumn memories at fourth-generation family-run Red Apple Farm in Phillipston. Pick from 50 varieties of apple, munch donuts and fudge, visit the goats, take a hayride, then sip an apple beer in the seasonal "Brew Barn." 1hr 10min by car.
Charles W. Morgan ship at the Mystic Seaport Museum ©jgorzynik/Shutterstock
Mystic, Connecticut
This seaside village was once one of America's most important whaling and shipbuilding centers, and Mystic now trades on its salty history. Visit the Charles W. Morgan, the world's oldest wooden whaling ship, at the 40-acre Mystic Seaport Museum, wander the historic riverfront downtown, take a schooner cruise, then tuck into clam chowder at the Captain Daniel Packer Inne, dating from 1756. 1hr 30min by car or by train from South Station.
Oak Bluffs, Martha's Vineyard, Massachusetts
The town of Oak Bluffs on elite Martha's Vineyard, only accessible by air or ferry, has been a favorite destination of well-heeled African-American families for more than a century. Take a walking tour on the African-American Heritage Trail. Then relax at The Inkwell beach, whose once-pejorative name is now embraced. 2hr 30min by car & ferry or bus & ferry.
See more day trips from Boston.
Best day trips from Philadelphia
Brandywine Valley, Pennsylvania
Running north from the Pennsylvania−Delaware border southwest of Philadelphia, the Brandywine Valley is a patchwork of rolling, wooded countryside, historic villages, gardens, mansions and museums. Spend a day at the Longwood Gardens; virtually every inch of the 1050 acres has been carefully sculpted into a display of horticultural magnificence. 1hr by car.
Unwind in Amish Country, Pennsylvania ©Photo Spirit/Shutterstock
Amish Country, Pennsylvania
Buggies still ply the roads of southeastern Pennsylvania, home to the simple-living, modern technology-shunning Amish. So if you're looking to escape the rat race for a while, this is the place. Shop Lancaster Central Market for Amish-grown veggies and handmade quilts. Chow on traditional treats like apple dumplings and shoofly pie. Ride a buggy or take a farm tour. 1hr 40min by car.
Hershey, Pennsylvania
If you've got kids (or just a sweet tooth), go directly to rural Pennsylvania's Hershey's Chocolate World for a tram ride through a chocolate factory of singing animatronic candies. Afterwards hit the airplane hangar-sized gift shop for Hershey's Kisses the size of your head, then head across the street to the century-old Hersheypark for all-American try-to-make-you-hurl amusement park rides and a seasonal waterpark. 1hr 50min by car.
Best day trips from Washington, DC
Dark Hollow Falls at Shenandoah National Park ©Orhan Cam/Shutterstock
Shenandoah National Park
Less than 90 minutes after escaping the snarl of DC traffic you'll find yourself coasting along the backbone of the Blue Ridge Mountains on Skyline Drive, one of the most glorious roads in America. Running down the center of Shenandoah National Park, it passes meadows of grazing deer, ancient hardwood forests and the craggy peaks of Hawksbill and Old Rag mountains. Hike, picnic, animal-watch, camp, repeat. 1hr 20min by car.
Berkeley Springs, West Virginia
The mineral waters in these mountains drew Native Americans for thousands of years before they attracted colonials like George Washington. Today, Berkeley Springs is a quirky spa town, with a handful of hot spring hotels, galleries and mom-and-pop cafes. Soak for cheap in the historic Roman Bathhouse at Berkeley Springs State Park or splash out on a private whirlpool at Renaissance Spa. 1hr 50min by car.
Ocean City is all about seafood feasts ©Chris Parypa Photography/Shutterstock
Ocean City, Maryland
Sometimes all you want from a summer weekend is a lump of fried dough, a walk on the boardwalk and an airbrushed T-shirt with your own face on it. So go "down the ocean," as the Marylanders say, to this beloved Eastern Shore beach. Quintessential Ocean City pastimes include fishing, minigolf, all-you-can-eat crab feasts, drinking at tiki bars and riding rickety carnival rollercoasters. Do it all! 2hr 40min by car.