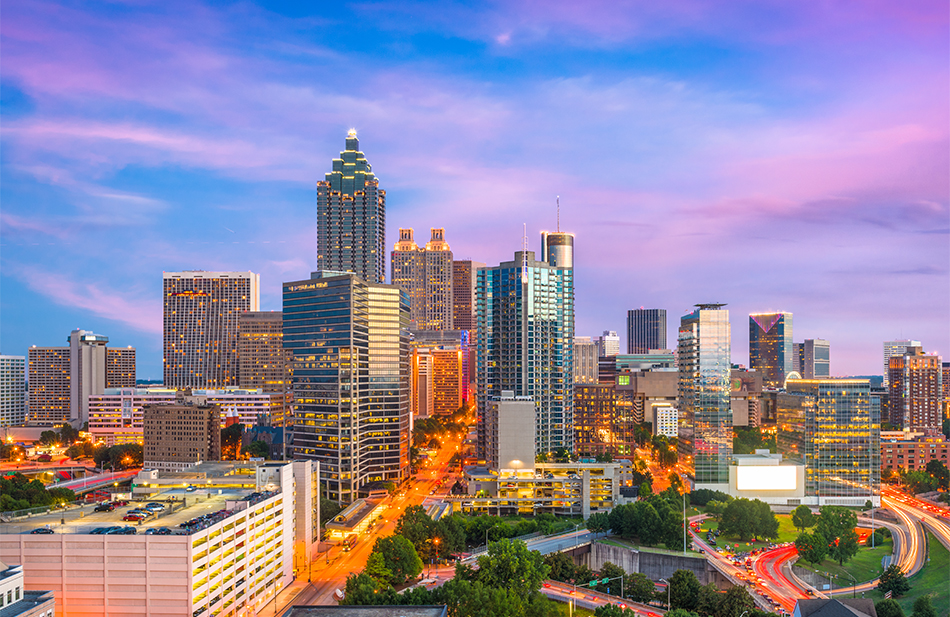 10 Best Places to Visit in Atlanta
Atlanta, Georgia's capital city, is a vibrant place to visit that seamlessly blends the old and the new. The lively metropolis, which was famously burned down during the Civil War, has since rebounded to become one of the most important economic and cultural centers in the Southern United States.
It now has not one, not two, but three distinct skylines and is home to the global headquarters of major corporations such as Coca-Cola and CNN. While Atlanta has many modern tourist attractions, it also has a rich history to explore as the birthplace of Martin Luther King Jr. and the birthplace of the civil rights movement.
1. Georgia Aquarium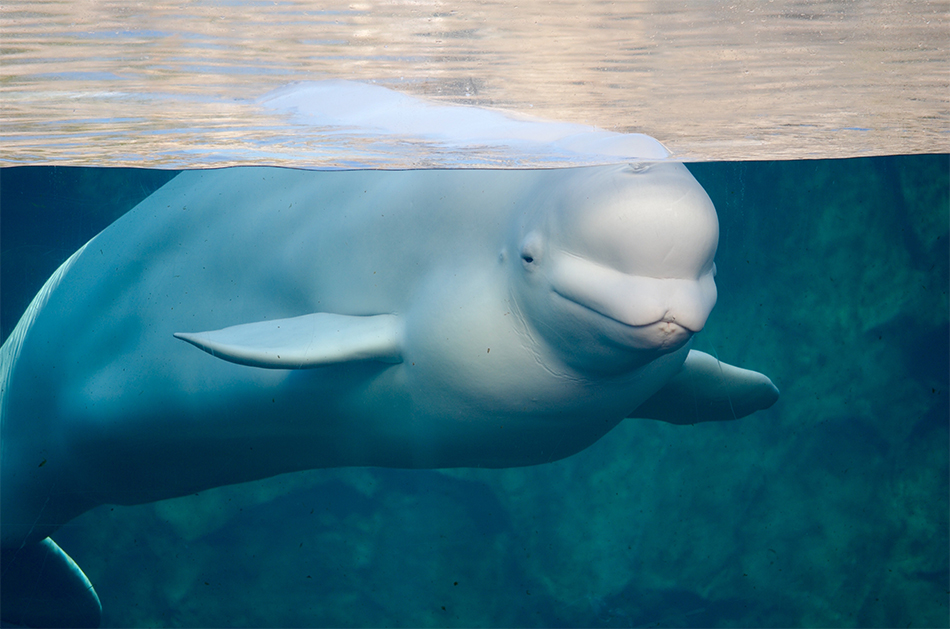 Georgia Aquarium holds the distinction of being the largest in the Western Hemisphere, and it was the largest in the world until it was surpassed by the aquarium in Singapore. A number of notable species, such as beluga whales and manta rays, can be found here. This aquarium is the only place outside of Asia where you can see a whale shark, the world's largest fish.
Tropical reefs, open ocean, arctic waters, freshwater rivers, and large marine mammals are among the five ecoregions. The aquarium has been working on a captive beluga whale breeding program as part of a conservation project, though successful calving has yet to occur.
2. World of Coca-Cola
This is the place to go if you've ever wondered what Coca-Cola tastes like in every country on the planet. A new museum was revamped and relocated in 2007 to house a larger collection of company paraphernalia, making it one of Atlanta's top attractions. Sixty years of jingles, advertisements dating back to the 1800s, and a 4-D movie experience are just a few of the attractions.
The updated tasting room, which not only allows guests to discover the preferred formula versions from different parts of the world but also rare local drinks via their customized freestyle machine, is one of the main draws here.
3. CNN Center
The world's most well-known news organization deserves a headquarters that is equally spectacular, and in this case, the CNN Center more than delivers. The Centennial Olympic Park, Phillips Arena, the Georgia Dome, and the Georgia Conference Center are all connected by a large food court atrium.
There are studio tours available, which include technology demonstrations and visits to viewing galleries overlooking CNN's newsrooms and newsreaders. There is a large, attached hotel where guests can stay, especially if they want to catch a glimpse of their favorite newscaster or special guest to the studios.
4. Fox Theater
Originally intended as a Moorish-style Shrine temple, the Fox Theatre evolved into an opulent movie theater. It was later converted into a performing arts theater, and it still hosts the Atlanta Ballet, traveling Broadway shows, and some music concerts. Even if you aren't going to see a show, the theatre's combination of Egyptian and Islamic architecture creates a spectacle worth seeing.
The interior theater is designed to look like an Arabian courtyard, complete with a twinkling crystal starry sky. There is also a large ballroom modeled after Ramses II's temple, and the mezzanine for the women's restroom features King Tut's throne and small sphinxes on the makeup tables.
5. Stone Mountain Park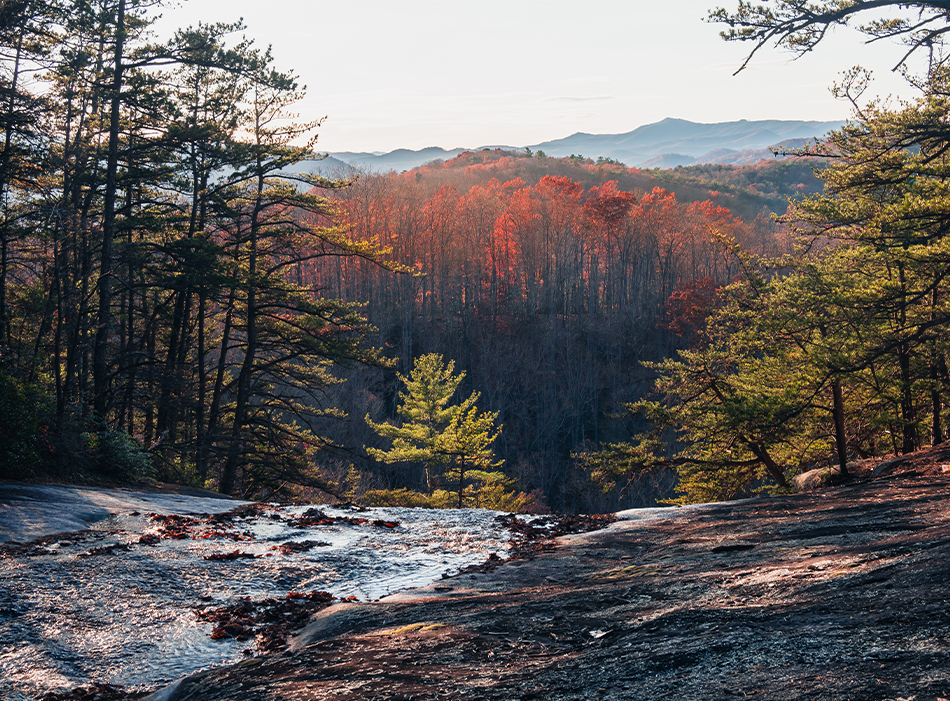 Stone Mountain, a massive monolith in Metro Atlanta, is the centerpiece of this park. The bas-relief on the mountain's north face is the world's largest. It includes a sculpture of Confederate President Jefferson Davis, General Robert E. Lee, and General Thomas J. "Stonewall" Jackson known as the Confederate Memorial Carving. The observation deck rises 825 feet (251 meters) above the surrounding area and offers a stunning view of Atlanta.
Confederate Hall, a nearby museum, has information about the geology of the mountain. There's also the Antebellum Plantation and Farmyard, an open-air museum with farm animals for visitors to pet and 19 historic buildings that depict a pre-Civil War plantation.
6. Atlanta Botanical Garden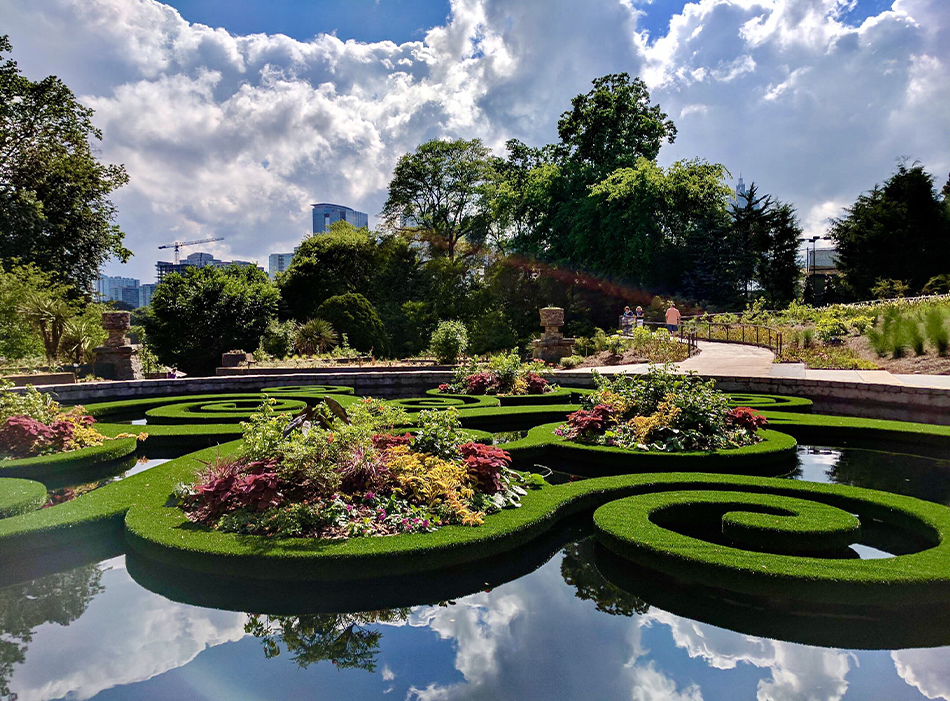 This garden is adjacent to Piedmont Park and is divided into several sections, each highlighting a different region, plant, or animal type. These include a Japanese garden, a rose garden, woodland areas, and a children's garden.
The indoor Fuqua Conservatory, which houses a variety of tropical, desert, and subtropical plants and animals, is one of the botanical garden's main highlights. The nation's largest orchid collection, as well as tropical birds, turtles, and poison dart frogs. For those who are not afraid of heights, the woodland park has a large canopy walk that allows visitors to explore the treetops.
Art exhibits and other charitable events are frequently held at the botanical garden. The most notable of these was a display of Dale Chihuly's glasswork in 2004, which drew half a million visitors to the gardens.
7. Centennial Olympic Park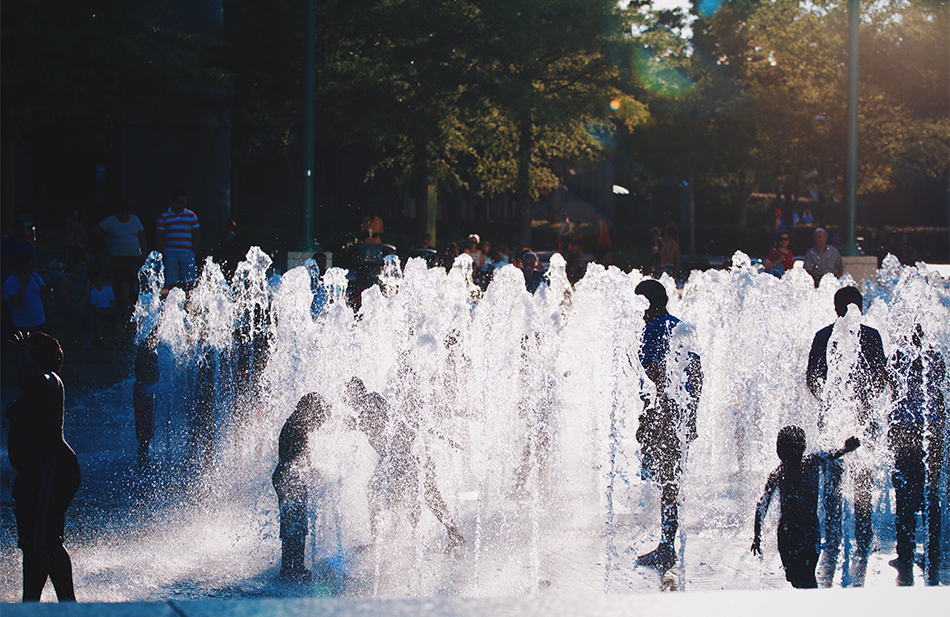 Olympic Park, which was built for the 1996 Summer Olympics in this city, remains a tourist attraction year after year. The park, which is located downtown between the Aquarium and the CNN Center, has a number of exciting features. A synchronized fountain of Olympic rings with lights, water jets, and music.
This is surrounded by a collection of flags representing all of the previous Olympic host nations. This historic site of athletic excellence also has a large, air-conditioned Ferris wheel and a large lawn that hosts a summer outdoor concert series.
8. Martin Luther King Jr. Historic Site
This historic site includes several buildings, including the civil rights leader's childhood home and the church where his father, and later King himself, first came to preach. This historic park also includes a firehouse that was once a major community center in the 1960s, a civil rights walk of fame, and the "I Have a Dream" international world peace rose garden.
A large mural depicting scenes from Dr. Martin Luther King's life stands opposite the visitor center. Several large events are held at the site, most notably on Martin Luther King Day and Black History Month.
9. Piedmont Park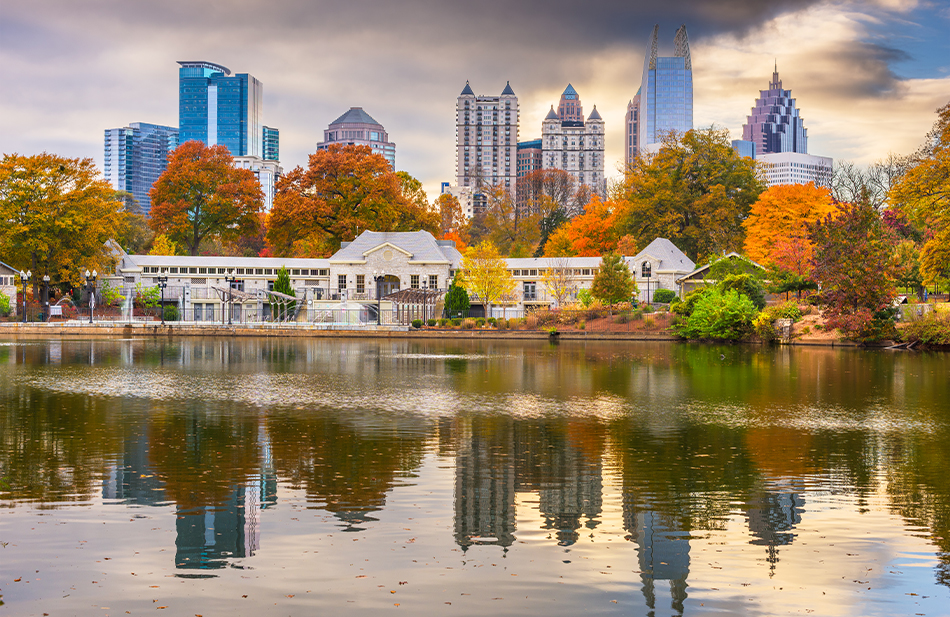 This park in Northeastern Atlanta near Midtown started out as an out-of-town gentleman's farm owned by a doctor named Benjamin Walker. It passed through several hands before becoming the property of the Piedmont Exposition Company. Several notable architects have worked on various parts of the park, most notably Frederick Law Olmstead of Central Park fame, who created many pathways that are still in use today.
It also has a large basketball complex and was the home of Atlanta's first team in the early 1900s. A large fishing lake, a playscape, and a large lawn that hosts many concerts are just a few of the other amenities available here.
10. High Museum of Art
The High Museum of Art, located in the city's arts district in Midtown, is one of the leading art museums in the South and one of Atlanta's most popular tourist attractions. The Atlanta Art Association founded the Museum in 1905. The High family, after whom the museum is named, donated their Peachtree Street home to house the collection in 1926.
The High Museum of Art moved into a new building designed by Richard Meier in 1983. Visitors can see works by American, European, African, and African-American artists from the 19th and 20th centuries, as well as decorative arts, photography, and modern and contemporary art.