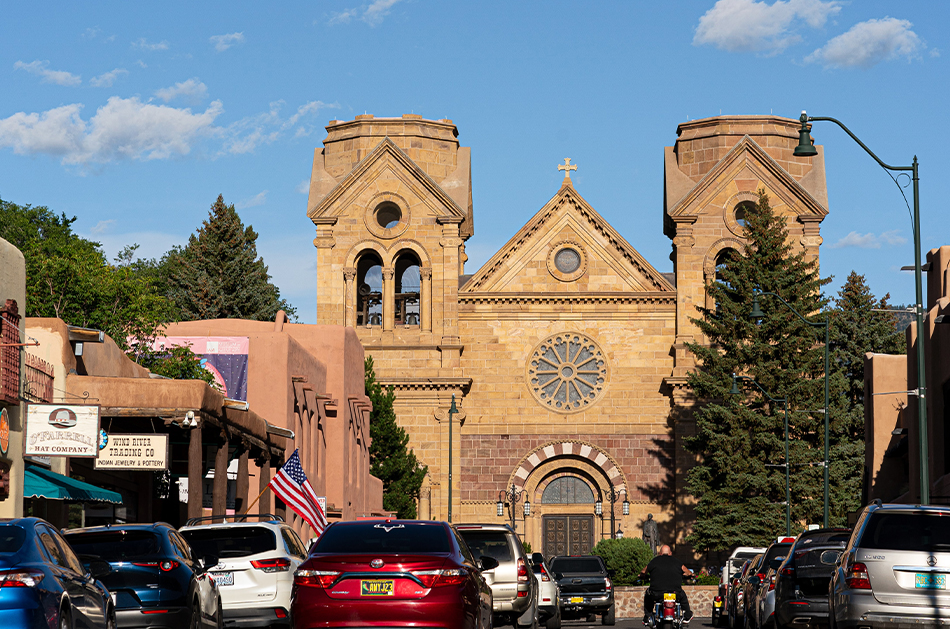 Top 10 Travel Destinations in Santa Fe
1. Canyon Road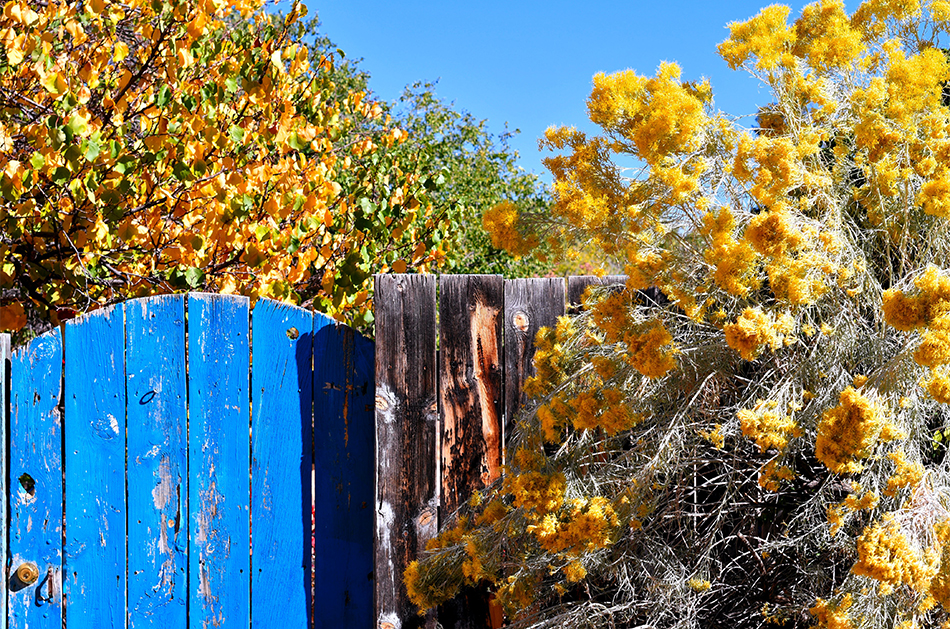 Canyon Road was previously a trading route heading to the Pecos settlement on the mountain's eastern slope. It now houses over 100 artist studios, galleries, and craft workshops, many of which focus on indigenous crafts and traditions. Along the road, sculptures and paintings and jewelry and pottery are on display and for sale, the majority of them with a Southwestern flair.
The Medicine Man Gallery, Blue Rain Gallery, and Gerald Peters are the most well-known destinations. When you've had your fill of walking around, there are a plethora of eateries and places to relax to select from, including cafés, teahouses, and restaurants.
2. Santa Fe Opera House
The Santa Fe Opera House is the state's premier performing arts venue, offering a diverse range of operatic works, from classics like Madame Butterfly to modern pieces like Doctor Atomic. Tailgating is one of Santa Fe's most endearing customs, an unusual sight as hordes of theatergoers in formal attire socialize in the parking lot while snacking on fancy finger foods.
Aside from seasonal performances, the opera house offers apprenticeship programs in all phases of production and year-round backstage tours.
3. New Mexico Museum of Art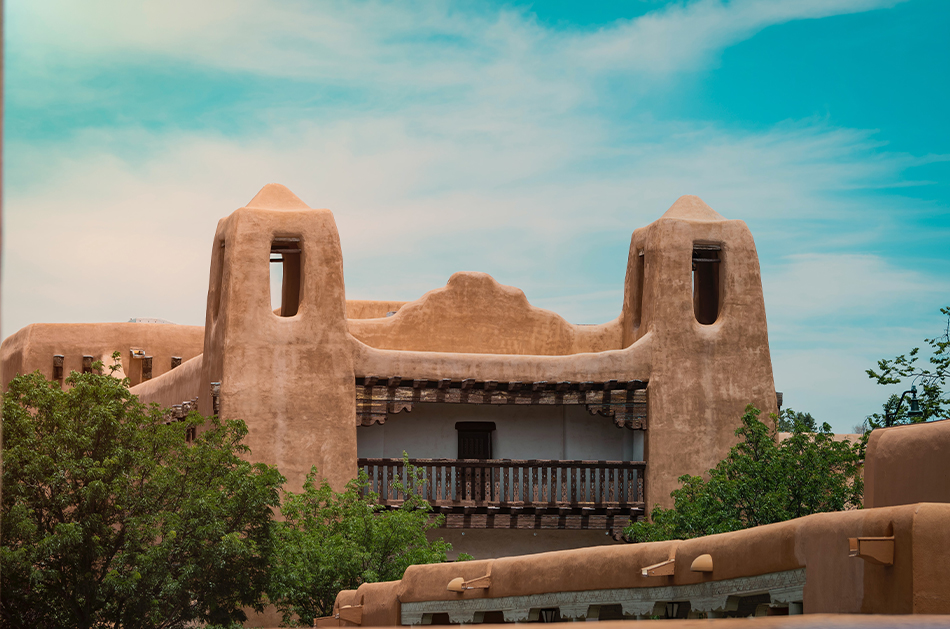 If you visit in the winter, New Mexico has numerous excellent ski resorts, several of which are within driving distance of Santa Fe. Many people know Taos Ski Valley, which is famed for its advanced terrain and attracts guests from all over the country, but several nearby resorts are more family-friendly.
Ski Santa Fe is about 15 miles from the city, and those without a car can catch a shuttle from the downtown area. This popular ski facility spans over 650 acres and features more than 80 trails with a wide range of terrain.
Pajarito Mountain Ski Area covers 750 acres and has 45 trails, is less than an hour's drive from Santa Fe. This is a preferred ski location for families and beginners because it has fewer trails and more room.
4. Santa Fe Plaza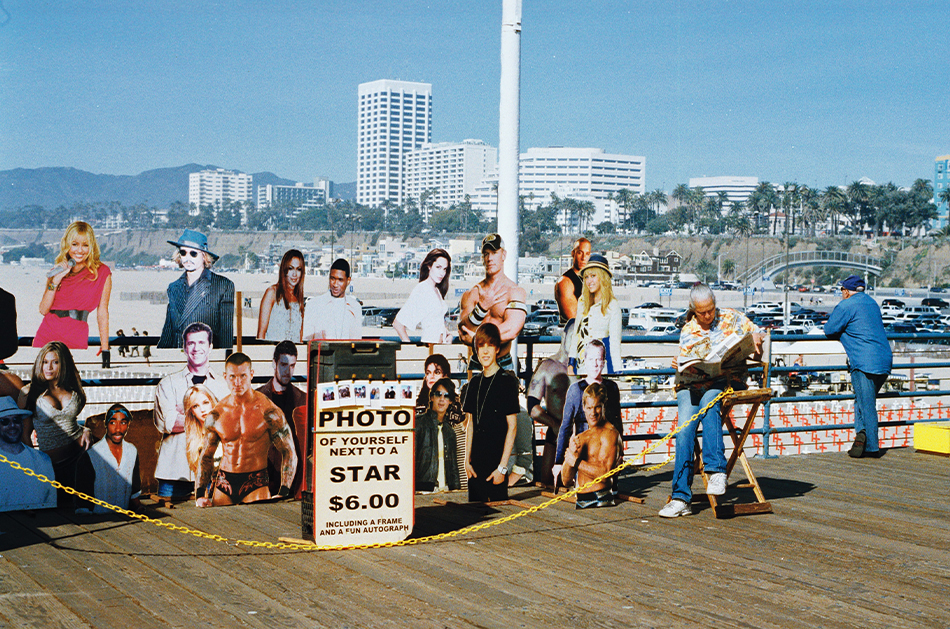 The Plaza, a marketplace established by the Spaniards at the end of the Santa Fe Trail, is the bustling heart of the town. The Plaza is now a bustling tourist destination, surrounded by many stores, galleries, restaurants, and cafés. Tourists will also discover that it is the best location in the city for purchasing Native American arts and crafts, particularly jewelry.
The Plaza is a favorite hangout for locals and tourists, and it's a great place to people-watch. This is where many of the city's signature events, particularly cultural celebrations, occur.
5. Museum of International Folk Art
The Museum of Worldwide Folk Art, founded in 1953, houses the world's most incredible international folk art collection, including baskets, textiles, wood carvings, and ceramics. Africa, Asia, the Middle East, Contemporary Hispano and Latino, European and North American, and Latin American are the geographical regions included in the collections. In addition, there are sections on Spanish Colonial and Textiles & Costumes.
The collection was founded by Florence Dibell Bartlett, who also founded the museum. Many additional individuals have contributed significant sums to the museum, and the group has grown significantly over time. Each year, the museum hosts several temporary exhibitions as well as activities. Check the calendar for future events such as music, films, talks, and other activities.
6. Cathedral Basilica of St. Francis of Assisi
The Cathedral Basilica of St. Francis of Assisi, with its Corinthian columns, rounded arches, and square towers, is a beautiful example of Romanesque Revival architecture. It was built between 1869 and 1886 to replace an older adobe chapel. The statue of the Virgin Mary, known as Our Lady La Conquistadora, is housed in the final intact portion of the ancient church. The figure, transported from Spain in 1626, is the oldest of its kind in the United States.
The inside of the cathedral is both stunning and simple, with elements such as a Brazilian granite baptismal font, imported stained glass from France, and delicate woodwork. The keystone with a sculpture of the Tetragrammaton in Hebrew is one of its most unique elements and has sparked much discussion throughout the centuries.
7. Georgia O'Keeffe Museum
With almost 3,000 paintings, sketches, and other works by Georgia O'Keeffe, the Georgia O'Keeffe Museum in Santa Fe holds the world's most incredible collection of her art. Throughout the year, different group parts are open to the public, making each visit a unique experience.
Special exhibitions featuring O'Keeffe's work and that of other modernists like Pollock, Warhol, and Levine are held at the museum. Lectures, workshops, and children's activities are available all year. It also looks after O'Keeffe's previous home in Abiquiu, a National Historic Landmark, and can be viewed by appointment.
8. Santa Fe Farmers' Market
Every Saturday morning, the Santa Fe Farmers' Market attracts over 150 local growers and vendors in the restored Santa Fe Railyard. The market has been open since 2002 and offers a wide range of products, including dry beans and peas, squashes, apples, maize, bread, breakfast burritos, and coffee.
Local musicians and other performers perform at the market, adding to the atmosphere. The market's central organization mandates that all goods be cultivated in the area. Similarly, northern New Mexico is expected to provide 80% of the ingredients and materials used in processed products.
9. El Rancho de Las Golondrinas
El Rancho de Las Golondrinas, a living history museum on an old Spanish ranch dating back to 1710, is located 10 minutes south of Santa Fe. This 200-acre property houses 33 historic structures, including originals and relocated historic structures from across the state. A variety of houses, barns, a chicken coop, a general shop, a schoolhouse, and mills, are among them.
Living history interpreters demonstrate daily activities such as spinning, weaving, cooking, tinsmithing, gardening, and blacksmithing, among other things. Traditional corrals are also available, and the ranch conducts special events throughout the year.